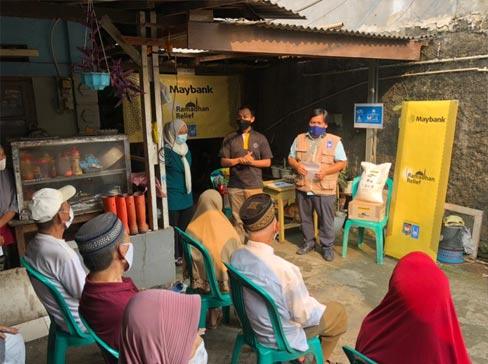 Jakarta, 25 April 2021 - PT Bank Maybank Indonesia, Tbk. (Maybank Indonesia) through its Sharia Business Unit (Maybank Indonesia Shariah Unit) carries out activities to provide donations to orphans & underprivileged dhuafa from April 26 to May 7, 2021, donations are distributed through the entire Sharia branch office (KCS) network in Indonesia. This donation assistance program targets 1,900 recipients of orphans & underprivileged people where the fund comes from the benevolence fund managed by Maybank Indonesia Shariah Unit.
Romy Buchari, Head of Shariah Banking Maybank Indonesia said, "Our initiative to distribute this aid is an effort of Maybank Indonesia Shariah Unit to help ease the burden on our brothers and sisters, especially for groups of orphans and duafa in Indonesia in this blessed holy month of Ramadan."
Currently, Maybank Indonesia Shariah Unit is in process for channeling benevolence funds totaling Rp1 billion to six institutions, namely ACT (Aksi Cepat Tanggap), LAZ Al Azhar Pray for Indonesia, Darut Tauhid Cares, LAZ Al Aqsha De Latinos, Mahkota Qurani Islamic Boarding School, Bogor and Ihya Ulumuddin Islamic Boarding School, Cirebon. The distribution of this benevolence fund aims to, among other things, support economic empowerment, clean water distribution, disaster relief, repair mosque facilities and build Islamic boarding schools.
Maybank Indonesia Shariah Unit social activities were also expanded to involve donations from customers through the Sharing Goodness program, which consists of the My Save & Transact for Charity Bank Program and the Blessing Mosque Program.
For the My Save & Transact for Charity Bank program, customers are invited to take an active role in distributing assistance where at every opening of the Maybank iB Savings and conducting financial transactions through the M2U ID App / Maybank2u, Maybank Indonesia will distribute benevolence funds in the form of donations of IDR 10,000 per transaction. and will be channeled to support self-sufficiency in the provision of clean water for communities and educational institutions.
In addition, the Masjid Berkah program is also available which focuses on the development and empowerment of the mosque-based economy and its congregations through the provision of financial solutions by opening a special Maybank Giro iB account to manage mosque and congregational funds by the related Mosque Prosperity Council (DKM).
By opening a Maybank Giro iB DKM Masjid account, one will get an additional cash reward of up to IDR 1.25 million which can be used for the maintenance of mosque facilities and other infrastructure. On the other hand, the mosque congregation can also give alms to the mosque by saving at the Maybank Deposito iB, where the entire profit sharing will be fully channeled to the ZISWAF DKM Masjid account.
Romy added, "we run our flagship program during the Ramadan period which is in line with Shariah First's strategy of promoting and introducing Islamic banking solutions that are not limited to the personal experience of customers, but have a broad impact on the communities around us. This is also manifested through community empowerment and the wider community, especially in the social sector and places of worship. "
Social assistance from Maybank Indonesia is also complemented by the Ramadan Relief assistance program from Maybank Islamic, a Sharia commercial bank operating in Malaysia which also carries out a series of social activities during the month of Ramadan distributed to several countries in the ASEAN region including Indonesia.
As in previous years, Maybank Islamic again distributed the aid that was submitted in collaboration with the Malaysian NGO Islamic Relief Malaysia representative of Indonesia which was carried out symbolically in Duren Tiga, South Jakarta on April 23, 2021 to 265 heads of families affected by the Covid-19 pandemic. This symbolic submission was carried out according to health protocols.
The Maybank Islamic Ramadhan Relief Program reaches more than 5,000 beneficiaries in a total of 11 countries where Maybank operates. Since its establishment in 2013 until now, Maybank Islamic has allocated funds of more than RM14 million for the Corporate Responsibility program which has provided benefits to around 120,000 underprivileged families. The Maybank Islamic Ramadhan Relief Program has been going on in Indonesia since 2017.
Maybank Islamic Chief Executive Officer, Dato 'Mohamed Rafique Merican said the assistance would be distributed to individuals or families, especially the B40 income group which includes single parents, people with disabilities, fishermen, farmers and those who have lost their jobs since the start of the movement control order ( MCO) due to the pandemic.
"We are grateful that this is the ninth year that the distribution of aid programs has been successfully implemented and has benefited disadvantaged groups of people in Malaysia, Indonesia, Singapore, Vietnam, Philippines, Laos, Thailand, Cambodia, Brunei, Dubai and marginalized communities in Indonesia. Myanmar is from Rohingya ethnicity, "he explained.
Dato 'Mohamed Rafique also said that the program is in line with the Maybank Group mission, namely humanizing financial services in an effort to build relevant financial services in communities throughout Asia and is also part of the Maybank Islamic initiative to affirm the existence of Sharia banking in the region.
Both social assistance through Maybank UUS and Maybank Islamic are expected to be a blessing for Ramadan for underprivileged communities and communities both in Indonesia and in the ASEAN region.

Notes to Editors
Maybank Indonesia
Maybank Indonesia is one of the leading banks in Indonesia and is a part of the regional and international network of the Maybank Group. Maybank Indonesia provides a comprehensive range of products and services for individual and corporate customers through Community Financial Services and Global Banking, as well as automotive financing through subsidiaries, WOM Finance for two-wheeled vehicles and Maybank Finance for four-wheeled vehicles. Maybank Indonesia also continues to develop Digital Banking services and capacity through Mobile Banking, Internet Banking, Maybank M2U (mobile banking based internet banking) and various other channels.
As of December 2020, Maybank Indonesia has 361 branches including Syariah branches spread across Indonesia as well as one overseas branch (Mumbai, India), 22 Mobile Cash Cars and 1,428 ATMs including 79 CDMs (Cash Deposit Machine) connected with over 20,000 ATMs incorporated in ATM PRIMA, ATM BERSAMA, ALTO, CIRRUS, and connected to 3,500 Maybank ATMs in Singapore, Malaysia and Brunei. Maybank Indonesia manages customer deposits amounting to Rp115.0 trillion and has total assets valued at Rp173.2 trillion as of December 2020.
About Maybank Islamic Berhad
Maybank Islamic is ASEAN's leading Islamic bank and is the largest Islamic commercial bank in Malaysia with a market share of 30.8% of Islamic financing as well as deposit and investment account at 27% as at December 2020. For the financial year ended 31 December 2020, Maybank Islamic's total assets stood at RM255.2 billion, a growth of 4.2% year-on-year.
For more information:
Tommy Hersyaputera
Head, Corporate & Brand Communications
Email: CCommunications@maybank.co.id
Telp: +6221 2922-8888